Tuesday, September 27, 2005
I also purchased 4 tickets to see Depeche Mode on November 21st, 2005! I'm totally excited! I've invited my best friends Sam and Rachel of course, and I figure my sister needs a night out so I'm taking her as well! I can't wait! I can't believe after all these years I still can't wait to see them again! :-D I had the presale ticket info and got on ticketmaster at 10am and had 4 tickets in hand but then let them go! STUPIDO! So I went back and got section 207 for the Staple Center. Not bad... Looking straight at the stage... WOOHOO! I'm sooo excited!
Well there's more I'm sure but oh well. hehe that's it for now.
posted by Charity at
9/27/2005 09:02:00 PM
Sunday, September 25, 2005
My goodnessÖ Even knowing I am going to be able to share everything, I fear doing so.
My sisters marriage
- First and foremost my brother-in-law, Jeff, had an affair on my sister, Heidi. It started in May 2005 and ended in late August 2005. We knew something was wrong in July 2005 but was told repeatedly by him that he was not having an affair. Then Heidi found proof in mid August that he could not deny and he finally admitted to our worst fears. Heidi has been strong in all of this. Willing to take him back and work towards restoration of their marriage, admitting that she has been in the wrong in some points and wanting to go to counseling. At this point (as of September 22nd, 2005) Jeff has told Heidi he doesnít have it in him to continue with the marriage, he just doesnít have the heart. They are separating. Whether divorce is going to happen or not, weíre not sure. As much as I have gone through the gamut of emotions, I really do want restoration of their marriage. It was devastating to find out that even though my sister was willing to take him back (which I donít know if I could ever do), even though biblically she has every right to divorce and remarry, the fact that he doesnít care enough to work on the marriage is devastating to say the least. It seems like a movie, and this is not happening to my family. My sister has been amazing in all of this. She has shown so much honor and courage in this situation, which makes his lack of love for her even harder to understand. He is deceived. Even his family cannot understand some of his thought processes. But at this point, I have been emotionally involved. I had so much respect for him as a person and could not believe he would do this to my sister. So this is one of the main things that have been on my heart for the last month or so, among so many other things that I will continue to share, but this has been the most life-changing experience.
The Place
- The next thing is the church. I have reserved writing about the church because I know that the people that are against the church may possibly read this blog. To them I say: I no longer care what you think about The Place. The Place is my home. It is the church my dad is pastor of. Yes it has its faults, but things have been done in accordance to what the scriptures say. People have left because they thought things were being done too harshly. They left with a vendetta against the church and its pastor, my dad. So naturally I will be a bit defensive on more then one level. I donít understand how people feel that holding onto an offense and spreading their lies around are going to make them look righteous and upstanding? Either way, we have had to deal with one family in particular making it their business to make sure everyone knows how they feel about the church. This has been hard. Because it was this family in which I had the most hope, the most love and care put into. I was drawn to them. I wanted to love them and be loved by them. In this respect, I was let down and hurt by their actions. I realize now I have to let them go. They will do what they want to do. I cannot be angry and resentful towards them, for honestly I donít think they know what they are even doing. Like my brother-in-law Jeff, they too are deceived. They are blinded by their offense. This is one aspect of what Iíve been dealing with in the church.
Jeff was an elder, this family were (what I thought) an important role in The Place, both letting themselves be deceived by the enemy and causing damage to the ones nearest them. In the end more people took on their offense and left the church as well. In the same time frame God had chosen, perhaps to use all of this, to sift through and get back down to the bare bones of The Place and work again at building it up. For a while we werenít sure we had enough support to keep the church going. My family was in turmoil, with what was happening to my sister, and now with the families we cared so much about slandering the church and the leaders in it, we all felt like giving up. I know for me I wondered what the future held. I knew God was with us. And that He was for us and not against us. I had faith that whatever His will was would be, and if that meant no more church, then thatís what it meant. Though deep down I felt strongly the church was/should continue. There was fear that if the church ended the people who left would find some kind of victory had been won on their part. I prayed for vindication of my father and The Place. But I knew, whether the church ended or not, the people who left with their offenses would be gloating no matter what. They are probably gloating now at the fact that the church is struggling. But if I focus on that, then I am looking at the wrong thing. Well these were feelings I struggled with, knowing that this is not what should matter to me.
We had an all church meeting on September 18th, 2005. I was very gratefully and pleasantly surprised to see the support come through for The Place. It was a very encouraging night. The Place will continue. We have enough members willing to support the different roles in place of a church. I am now excited for the new beginning, knowing that the people there support and respect the leadership in place at the church. I look forward to see where God brings us. The Place has to move because of the cost of rent at our current location. We are still in prayer over where to have church. But after the meeting, it doesnít seem as important somehow. I guess because knowing that a church is not a building but the people in it. We have a church, even if itís out of our home (which truth be told, there are too many members to be able to fit into a home! PRAISE GOD!)! My family didnít know until 18 hours before we had to be out of our old house where we were moving to. Hey, if God can do that for us, Heís able to do it for The Place.
I am encouraged by the church, the people in it, and where God is going to take the Place.
Unmentionable
- Well I had more to share but as I thought about sharing it, I realized I wasnít at liberty to do so. As much as it impacts my life, it is not directly my life having to make that decision and well, it hasnít been totally decided yet. So there is another aspect of my life that was in turmoil for a while. It still is to some extent because things are still up in the air. But until he makes a decision I feel that I need to respect his privacy.
As to the smaller items Ö my knee, last checkup, finances, etc.
My knee
Ė My knee has always dislocated every year or so. I finally decided to mention it at my last doctorís appointment and they had me get x-rays of it. I got the results back Thursday. They said I have effusion (?sp) of the knee, water of the knee. My knee apparently has water in it. They say itís caused by trauma to the knee. Well hmmÖ Ok that explains why itís weak and still pops out every-so-often, but doesnít explain why it happened in the first place. So they are requesting I do physical therapy.
Last Checkup
Ė So I went to the doctors earlier this month with a list to check out. My sister has hypothyroidism and well I figured, since it was genetic, I should get mine checked out. So that came back fine, so no clinical excuses for my weight gain in the last couple years, ;) other then sheer laziness. My blood work came back with high Cholesterol. High enough they want me on medication. I havenít heard back from them about my prescription so I will have to call Monday. Iíve done a lot of research and found that if I have a tablespoon of cinnamon a day it really helps lower Cholesterol (thanks Sam), that Flaxseed really helps with the bad Cholesterol levels (thanks Michelle) and exercise helps with good Cholesterol levels (thanks internet), that fish has a natural oil that helps reduce Cholesterol and I should have one serving a week of fish (thanks internet) and Rachel gave me some pointers in there as well. So going back to the gym has been good but Iíve allowed my schedule to dictate when I can go. I think at this point I will have to make it a priority, not just to lose weight but to be healthier.
Finances
Ė Finances are the main thing going well in my life right now. So Iíve already explained that my credit score went up 100 points in less then a year. After that point Iíve paid off 3 credit cards in the last couple months. I have one large one left, from my ex. I have sadly been stuck with that one since 2001. When I first got all my debt out of control I could barely make payments. I closed the actual credit cards and left the retail store cards open. Not exactly the smartest thing but I didnít know what else to do at the time. Since then Iíve learned so much about credit and how to manage it. Iím excited for the fresh start. The fresh start wonít happen until Jan/Feb 2006 but still. Itís close! This last payday I have been cutting it close because I paid off my credit card (I had two, one was my exís debt and one was mine), and I threw Sam a 30th birthday party so that was quite expensive but fun! Iíll be curious once my debt is paid off and Iím putting money in savings what my credit score will be then. I am hoping to buy a car in July 2006. Iíve been looking at the Scion tCís. They are a nice looking car but Iím not sure until I actually go test drive one and see how it feels. It seems reasonably priced so weíll have to go see it.
Work
Ė Work is stressful but nothing like it used to be. I am enjoying it again. I get overwhelmed because I wish I was better at doing more with my time but I am making changes to help in that area. I am determined to make the department better by January when I go back in for another review. My supervisor has been helping me realize how to relate as a manager.
Well I have plans for my day so I am going to leave it at this for now. I am going to spend some time with my best friend Rachel at her place. :) Watch a movie or two. I have pictures from Sam's 30th Birthday Party at his parents place in Yucaipa, and at the rate I get pictures up it'll be a while, but I will try to get them posted soon!
posted by Charity at
9/25/2005 03:01:00 PM
Monday, September 19, 2005

My pirate name is:


Dirty Charity Flint


You're the pirate everyone else wants to throw in the ocean -- not to get rid of you, you understand; just to get rid of the smell. Like the rock flint, you're hard and sharp. But, also like flint, you're easily chipped, and sparky. Arr!

Get your own pirate name from fidius.org.
posted by Charity at
9/19/2005 01:53:00 PM
Monday, September 12, 2005
Second Day - styled by myself
First Day - styled by Jeremy at Jeremy Christophers

posted by Charity at
9/12/2005 09:24:00 PM
Wednesday, September 07, 2005
I woke up this morning at 6:45am... Sleeping in which felt good! I got ready and drove to the Barstow DMV to take Arrowhead Credit Union off the title to my car as the lein holder since I paid the car off back in Dec 04.... So I get to the DMV at 8:15 and I don't see a line. But I see a bunch of people sitting in their cars. So I decide... what the heck... I'll go up to the doors. I don't want to wait around for someone else to do it. I had seen a sign that said something like dmv customers line up here. So I had been standing there. Sure enough, after standing at the door everyone else started to get out of their cars. A few people tried to get in front of me as they stated they had been there since 6:30 or 7:15 ... But I stayed where the line said to start... Luckily someone behind me informed them that they weren't standing where the line needed to be and they were forced behind me without me even making a big deal about it! hehe So I started reading the first of the Narnia series "The Magicians Nephew" to pass time. The doors opened exactly at 9:00am and I was walking back out to my car by 9:04am! I was totally smilin!
I drove home and worked through Sam's guest list for his bday party in a couple weeks. I stopped by a party place to pick up an extra pack of invitations and reserved a hellium tank for the party. I then went to my hair appointment with Jeremy. I love the way Jeremy cuts and colors my hair, though every time he styles it, it's really flat on my head and as I've said before ... with a round face, flat hair ain't that attractive. ;) But here it is...
Like I said... a bit flat to the head and with the new color it should have better body when I style it tomorrow. Maybe I'll upload another pic tomorrow too... :)
So after the hair appointment I drove past the furniture store that I've been dying to get my dresser from. I found out Monday they don't sell the 4-drawer dresser anymore and they gave me the impression I couldn't order it either. So I decided as I drove past today to ask who the distributer was. I talked to the guy and sure enough they can special order it!!!! I was sooo excited! Sam gave me the money for the dresser as a birthday gift and I wasn't sure what to buy in it's place. I mean it's not an extremely expensive dresser. But it's better then the dressers you'd find at Target or Walmart. Either way I was totally happy!
Now I am just waiting for my doctors appointment which is at 3pm. Then the rest of the day I can relax. :-D
posted by Charity at
9/07/2005 02:08:00 PM
Sunday, September 04, 2005
Saturday I slept in to make up for the late night and was pretty much lazy all day. I started down the hill at about 4pm to meet my brother for dinner. He wanted to take me out since he wasn't going to be able to be there today for the family birthday party. He has his new girlfriend in town and so I finally got to meet her. :) I really liked her... I teased Brian and told him that she had my vote. hehe Sam was supposed to join us but a favor he had offered to do for a friend ended up being much more involved then he anticipated. So after dinner Brian and Kelly had to head out and Sam was no where near an ending point, so I just drove back up the hill.
Today I woke up and went to church and afterwards talked to some family who wanted to wish me a happy birthday. My sister flew out to North Carolina to get away from everything, so she wasn't here for my family birthday party either. My family birthday party consisted of my dad and mom. :) My dad knew he was in for a chick flick so he mentioned that he hasn't seen Bridget Jone's Diary, which happens to be an all-time favorite of mine! hehe
Oh and something else I've been able to work on this weekend! Pictures! I have a ton of pictures I've uploaded of different events going back to April!
So first I have pictures of Crom and his family. Crom has been basically family since he and my brother Shawn were best friends in highschool. So they were out in April and I just now have the pictures to post!
Click Here
to see the 8 pictures of Crom and Carrie's Visit - 4/05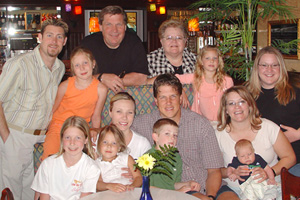 Then I have the pictures of the Wave of Worship that happened May 11th, 2005. The Place's worship team played one hour of the event which was at 7am! Not a lot of people were around at that time but I still took pictures of it. :)
Click Here
to see the 43 pictures of the Wave of Worship 5/11/05
We had a Father's Day Picnic for the dads of The Place on June 18th, 2005. We had a great time! We had a three-legged race, water balloon toss, family vs. family tug of war and yummy food!
Click Here
to see the 19 pictures of the Father's Day Picnic on 6/18/05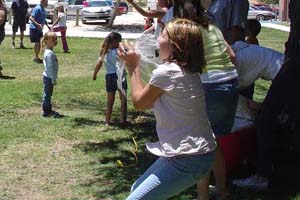 My lunch buddies and I decided to try out the new BJ's Restaurant that opened up off of 4th Street in Ontario. I had my camera so I decided to take a few shots.
Click Here
to see the 4 pictures of our lunch at BJ's on 7/8/05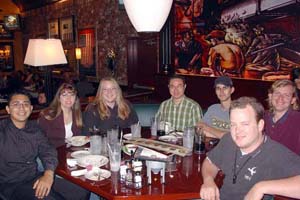 My parents went out to Minnesota for a couple weeks so while they were away I hosted my first ever BBQ. I was told it was a great success! I had lots of fun! We had a TON of food and it was all my closest friends. :)
Click Here
to see the 26 pictures of the BBQ on 7/10/05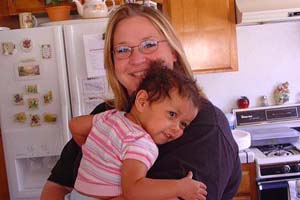 So I've already explained the bday party Sam threw for me Friday after work. Here are some pictures.
Click Here
to see the 8 pictures of my bday party on 9/2/05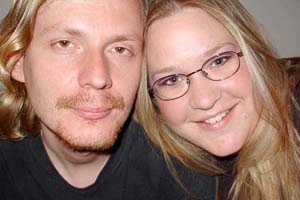 So that's it. I hope you enjoy. It took a while to get all these together. I couldn't believe how many events I hadn't posted yet!
Now I'm ready to go enjoy the last couple hours of my birthday. :)
posted by Charity at
9/04/2005 09:53:00 PM
Friday, September 02, 2005
Lordy... As usual it's been a hectic week. I took my sister out and we had a great time. But that evening was extremely emotional! I ended up driving her to Oxnard to spend the night at my brothers place so she could get away from it all. It was a late night with lots of tears. The next morning my brother and Mike (his roommate) took us out to breakfast and then down to the beach.
Yeah it's nice having a camera phone. :) What can I say? hehe So after driving around seeing the sights (Heidi had never been there) we went back to their place Heidi took a nap. Later that day Brian, Heidi and I went to the movies (the Brothers Grimm... A total dissapointment!) and then it was time to head back home.
I got my check from linkLINE for my vacation time. I divided it out to pay off debt and went online to check my credit score before I paid all my bills. By January I will get a new credit score and see what the next few months of payments will do to my credit. I've been consistent for a while now. And when my family had to move by January I tried for a loan and my credit score was not so good... The guy told me that my problem was late payments and if I was consistent for a year it should go up at least 100 points. When I told people this, they laughed in my face and said maybe a few points but not 100... So when I got my updated credit score imagine my surprise when it was up by 100 points and it hasn't even been a year! :-D So I am wondering how much it'll go up since I'm paying off the balances (crossing fingers and praying) by early 2006...
I will start to build my credit again by getting a credit card and using the wisdom I've gained from past mistakes and use it for what I can afford. I don't like the idea of using credit cards anymore. I like only spending what I have in the bank with my bank card. But to build my credit I will have to just get a card that I can use to put everything on and pay it off every month... Like I was told to do when I first got my cards. :) I guess I had to learn from my own mistakes and not from others. hehe
My new goal is to put 5% of my checks into a savings account from this payday on. And after January or so (whenever I pay off the balances of my cards) I hope to start putting a hefty chunk of my checks into the savings account. And hopefully by the time I want to buy a car (July 2006) I will have a good downpayment. These are all dreams and hopes. I am not sure if it will all work out. Things always come up, but I had the goal of paying off my debt by July 2006 and I am definitely doing it! But I am not going to set myself up for failure either. I will do my best and set my mind to it and I think I can.
Well it's lunch time. So I guess this is it for now.
posted by Charity at
9/02/2005 12:03:00 PM